Florida—a paradise of beautiful beaches, vibrant cities, and diverse cultures. But did you know that it's also a haven for German cuisine? As surprising as it may sound, the Sunshine State boasts an array of authentic German restaurants that could make anyone feel like they're dining in the heart of Bavaria.
Why German Food in Florida?
Florida is a melting pot of cultures, and its culinary scene is no exception. Amid the Cuban, Italian, and seafood restaurants, you might be amazed to find establishments serving hearty German meals, complete with bratwurst, sauerkraut, and steins of beer. So, why not ditch the margaritas for a night and opt for a Maß of German lager?
How We Chose
This list is not just a rundown but a well-researched guide. We took into account customer reviews, food quality, ambiance, and authenticity. So, without further ado, let's embark on this culinary journey through Florida, from the Panhandle to the Keys.
1. Hollerbach's Willow Tree Café – Sanford
Located in the historic district of Sanford, Hollerbach's Willow Tree Café offers an authentic experience. The ambiance is rich with Bavarian charm, with staff dressed in traditional dirndls and lederhosen. Live German music often fills the air, enhancing the dining experience.
The Food
Sauerbraten: Marinated roast beef served with potato dumplings and red cabbage.
Wiener Schnitzel: A thinly pounded veal cutlet, breaded and deep-fried.
Black Forest Cake: A dessert that perfectly balances the flavors of cherries, cream, and chocolate.
Must-Try
The "Gemischter Aufschnitt," a German cold cut platter, is a great way to start your meal. And for drinks? A stein of their house-made beer is a must.
2. Old Hamburg Schnitzelhaus – Anna Maria Island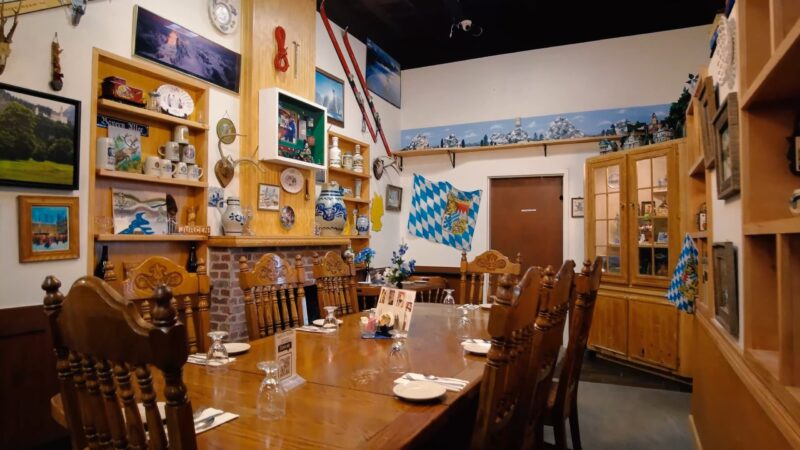 Old Hamburg Schnitzelhaus brings a slice of Germany to Anna Maria Island. The rustic interior features wooden beams and vintage décor, offering a cozy, home-like atmosphere.
The Food
Rouladen: Beef rolls filled with onions, mustard, and pickles, cooked until tender.
Königsberger Klopse: Meatballs in a creamy caper sauce.
Apple Strudel: A flaky pastry filled with sweet, spiced apples.
Must-Try
Their impressive selection of wines sets this restaurant apart. Don't forget to ask the knowledgeable staff for wine-pairing recommendations.
3. Bavarian Grill – Pensacola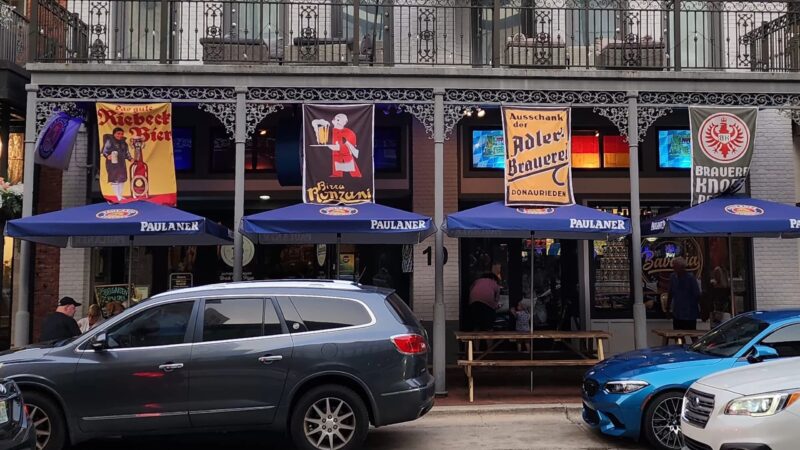 Set in a charming building that evokes Alpine architecture, Bavarian Grill is a local favorite. The ambiance is relaxed but festive, often featuring live accordion music.
The Food
Bratwurst: Classic sausages, perfectly grilled.
Goulash: A hearty beef stew, rich in flavor and history.
Berliner: A jam-filled doughnut that is a German dessert staple.
Must-Try
Their "Bier Sampler" offers a tour of Germany through its diverse beer culture. It's a delightful way to complement your meal.
4. Mr. Dunderbak's – Tampa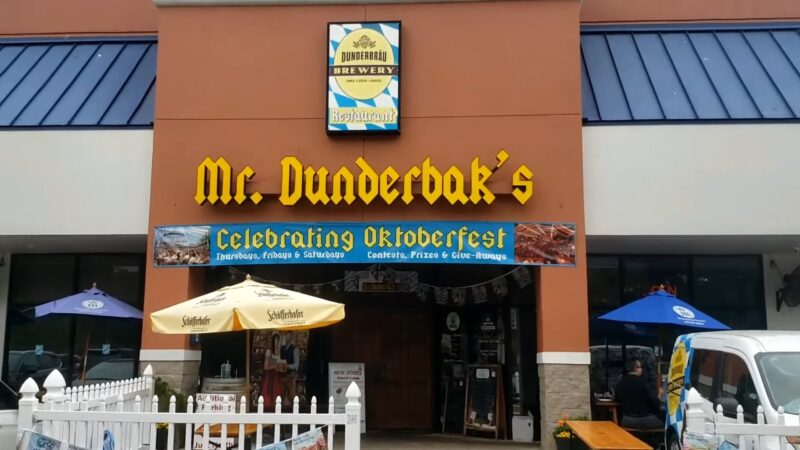 Don't let the mall location fool you. Mr. Dunderbak's has been serving up authentic German food and beer for over 40 years. The biergarten-style interior and folk music create a jovial atmosphere.
The Food
Reuben Sandwich: A deli classic with a German twist.
Spätzle: Egg noodles that you'll dream about.
Bee Sting Cake: A layered cake featuring honey, almonds, and cream.
Must-Try
They have a deli market where you can buy authentic ingredients. Don't leave without picking up some chocolate or wurst for the road.
5. German Deli – Largo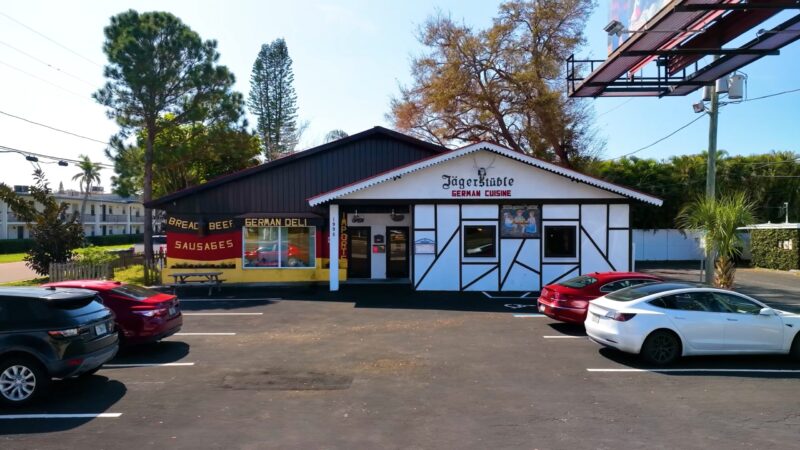 Simply named "German Deli," this Largo gem might lack in branding but compensates with sheer authenticity. The décor features German memorabilia, giving diners the feel of a real gasthaus.
The Food
Zigeuner Schnitzel: Pork schnitzel with a spicy bell pepper sauce.
Kassler Rippchen: Smoked pork chops, a delicacy.
Silesian Streuselkuchen: A crumb-topped cake that will make your taste buds sing.
Must-Try
Their weekday lunch buffet offers a variety of classics. It's a great introduction for those new to German cuisine.
6. Checkers Old Munchen – Pompano Beach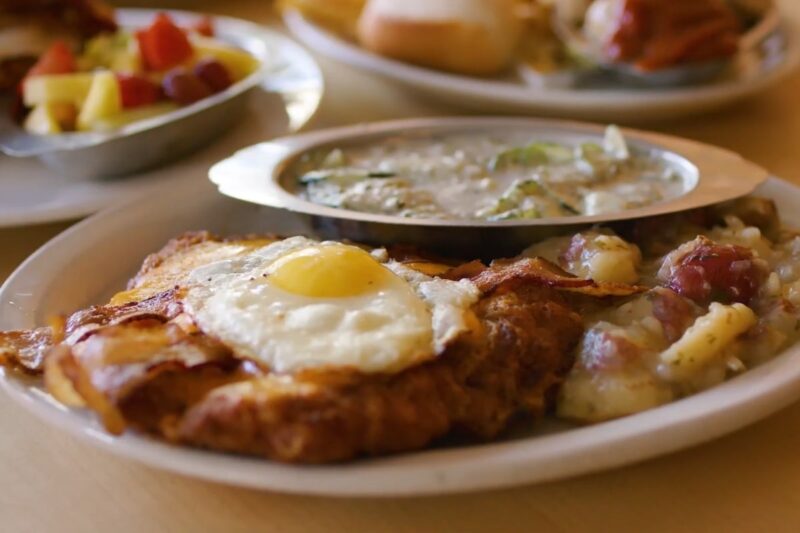 Checkers Old Munchen provides an intimate dining setting, ideal for both family meals and romantic dinners. The walls are adorned with charming German-themed artwork and decor.
The Food
Currywurst: Sausage slices in a tangy curry sauce.
Leberkäse: A meatloaf that's unique and addictive.
Schnitzel Sandwich: A filling option for schnitzel enthusiasts.
Must-Try
Their 'Bavarian Pretzel' served with house mustard is a delight for the senses. It's a wonderful accompaniment to a cold German beer.
7. Café Vienna – St. Petersburg, Florida
Café Vienna merges elegance with comfort. The interior feels more like a European café, which means it's perfect for both casual lunches and special occasions.
The Food
Wiener Schnitzel a la Holstein: Topped with a fried egg, anchovies, and capers.
Gulaschsuppe: A rich and flavorful beef and vegetable soup.
Mozarttorte: A sinfully delightful chocolate and almond cake.
Must-Try
The restaurant's Kaffee und Kuchen (Coffee and Cake) deal in the afternoons offers a slice of cake and a coffee for a discounted price. It's the ultimate German teatime experience.
8. Fritz & Franz Bierhaus – Coral Gables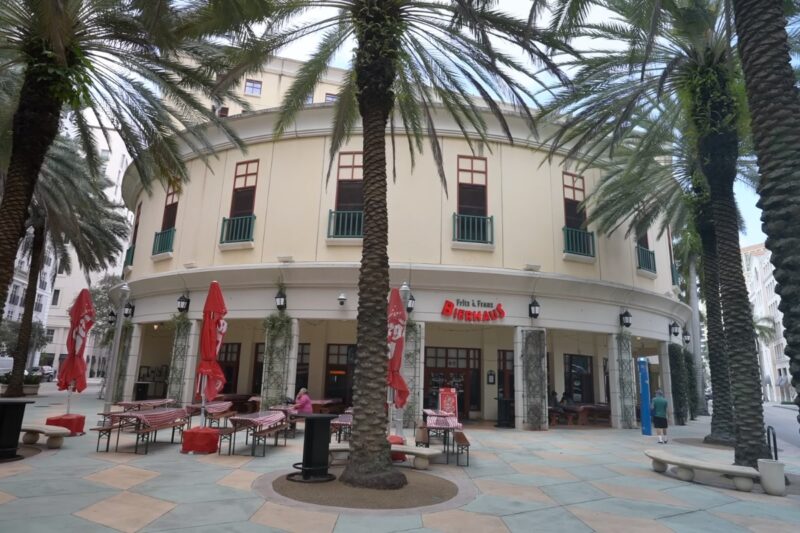 A sports bar with a German flair, Fritz & Franz Bierhaus is great for catching a game or simply enjoying the casual and convivial atmosphere.
The Food
Bierhaus Salad: Greens with a medley of German sausages.
Schweinebraten: Slow-cooked pork roast that melts in your mouth.
Apfelküchle: Apple fritters that are the epitome of comfort food.
Must-Try
Their weekly specials, like 'Schnitzel Wednesday,' provide ample opportunities to experience the menu at discounted prices.
9. The Ambry – Fort Lauderdale
The Ambry offers a contemporary twist on the German dining experience. It's refined yet relaxed, making it suitable for all kinds of occasions.
The Food
Lobster Thermidor: A French-German fusion that's nothing short of spectacular.
Veal Jäger: Veal in a creamy mushroom sauce.
Sachertorte: A chocolate cake with a layer of apricot jam.
Must-Try
Their cocktail menu features German-inspired concoctions. The "Berlin Mule" is a refreshing blend of vodka, lime, and ginger beer, topped with a splash of Jägermeister.
FAQs
What is the diversity of German cuisine like?
German cuisine is incredibly diverse, reflecting the country's federal history. It shares culinary traditions with neighboring countries like Poland, the Czech Republic, and even Denmark. Southern German regions like Bavaria and Swabia share dishes with Austrian and Swiss cuisines.
What types of meat are commonly consumed in Germany?
The average annual meat consumption in this country is 59.7 kg per person. Pork, poultry, and beef are the most common varieties. Meat is usually braised, and dishes like Sauerbraten (sour roast) are national specialties.
How significant is sausage-making in Germany?
This country has a long tradition of sausage-making, with more than 1,500 different types of sausage (Wurst) available. The sausages are made with natural casings of pork, sheep, or lamb intestines.
What types of fish are popular in German cuisine?
Popular freshwater fish include trout, pike, carp, and European perch. Seafoods like herring, tuna, mackerel, salmon, and sardines are also well-established.
What vegetables are commonly used in German dishes?
Vegetables like carrots, cauliflower, turnips, spinach, peas, beans, broccoli, and various types of cabbage are common. Asparagus is especially popular, with a yearly per-capita consumption of 1.5 kg.
What is the structure of meals in Germany?
Traditionally, the main meal of the day is lunch, eaten around noon. Dinner is usually a smaller meal. However, dining habits have changed over the last 50 years, with many people now having a hot dinner in the evening.
What are some popular side dishes in German cuisine?
Noodles and potatoes are common side dishes. Dumplings, including Klöße and Knödel, are also popular.
What spices and condiments are commonly used?
German dishes are rarely hot and spicy. Common herbs and spices include parsley, thyme, laurel, chives, black pepper, juniper berries, nutmeg, and caraway.
What are some popular desserts in Germany?
A wide variety of cakes, tarts, and pastries are served, often made with fresh fruit. Cheesecake, made with quark, and Schwarzwälder Kirschtorte (Black Forest cake) are popular. Rote Grütze, a red fruit pudding, is a popular dessert in the northern part of the country.
Final Words
From cozy gasthauses to contemporary dining spaces, Florida offers an impressive range of German culinary experiences. Whether you're a fan of schnitzel or looking to indulge in some Black Forest Cake, there's something for everyone in the Sunshine State.